This year the Club's AGM is planned for the evening of Monday December 6th at the Bowling Green Pub.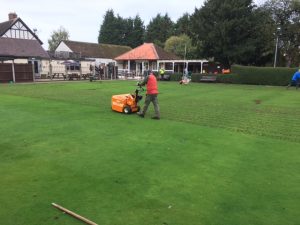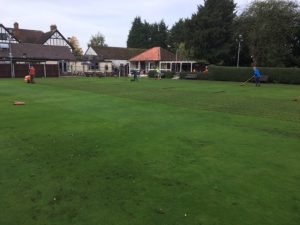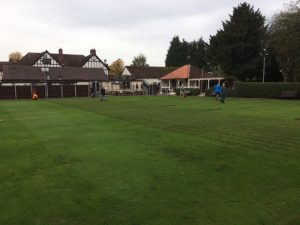 Work on re-seeding the green began today (Monday, 11th October), with the Club's tining machine (bought earlier this year) being operated by Ian mandle.  To have an outside  contractor undertake this work would cost at least £200 a time, and it needs to done several times each year.  The Club received a grant towards the cost of this machine and with the use it has had so far it has almost paid for itself already.
The trouble is that tining leaves the soil plugs on the green, and these all have to be collected and removed (for later recycling) – and that failrly backbreaking work was being undertaken by other Club stalwarts that you can see in the pictures together with several who were apparently camera shy).  In addition, in the backgroud Bob Bogle was sifting some of the 75 bags of soil that will be used to cover the seed once it has been spread: and there's still a lot more bags to deal with.
There is still a great deal to do over the rest of the week so if you can spare the time and have the energy let Ian Martin or Rob Slater know.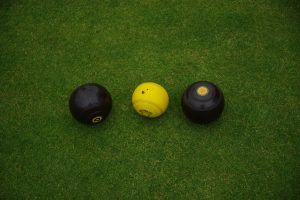 Saturday 3rd July                               Gentlemen Day                                                10.00 for 10.30  Please sign up by 30th June
Saturday 10th July                             Alan Cotterill Memorial cup                         10.00 for 10.30
Saturday 17th July                             Mike Gripton Memorial cup                         10.00 for 10.30
Saturday 7th August                         Ladies Day                                                       10,00 for 10.30
Monday 30th August                        Fred Hayles mixed doubles                          10.00 for 10.30
Saturday 11thSeptember               Mixed Doubles and BBQ                                11.00 for 11.30
Saturday 25th September             Ladies V Gentlemen Ansell Trophy                   2.00 for  2.30
All leagues have now published their fixture lists.
Please check our "links" page for more details